About
We introduced the FIBERWEB Products in 1973 committed to the goal of providing the construction industry with an innovative, reliable time enduring flashings. With state-of-the-art manufacturing facilities in North-east, Mid-west and South-west, we are committed to quality, innovation and customer satisfaction. Our technical support staff is always available to answer any questions to assure proper installation.
As confident in our future as we are proud of our past, we at FIBERWEB celebrate our commitment to the highest levels of product integrity, reliability, product longevity and cost control which have made FIBERWEB an industry leader.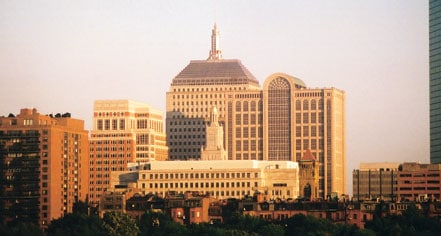 John Hancock Bldg., Boston, MA
Commercial-Rehab
In the early 80's, teaming up with E.I. Dupont's Plastics Division, we specifically re-designed the FIBERWEB products line to exceed the regulatory standards set by both the Army Corps of Engineers and the Navy SysCom Engineering Groups. Dupont's films, coupled with our frontier adhesive technologies set an industry standard, allowing us to warranty the products for superior performance and longevity.
Today we have advanced our standards by including AMMA and LEED in our certification criteria.
We have continued that innovation with a line of self-adhering products which include composite film flashings, encapsulated copper flashings, stainless steel flexible membrane flashings and vapor barriers.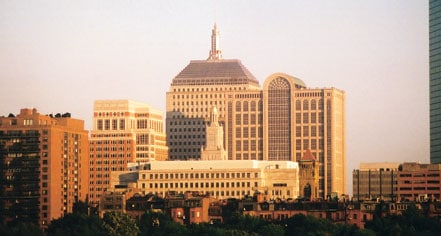 FIBERWEB PRODUCT HIGHLIGHTS
FIBERWEB products are composed of the finest components available, while strict quality control measures governing our manufacturing process result in consistent production runs characterized by high tensile and tear strength necessary during installation and extended longevity.
FIBERWEB products were the first flashing products manufactured with polyester as core component and among the first to employ E.I. Dupont's mylar® to completely encapsulate a metal flashing to more than double the flashings effective lifespan. The same technology has now been applied to our self-adhering copper and stainless-steel flashings.
FIBERWEB Products have been successfully used for over 45 years throughout the entire range of buildings from new to rehabilitated construction by private and institutional builders in commercial, industrial and residential settings, as well as by public authorities including the federal government in both civil and military construction.
Environmentally Responsible
Since 1973 FIBERWEB Products have been using re-cycled raw materials as part of the company's commitment to protecting the environment and saving natural resources.
FIBERWEB products are warrantied for their performance and longevity as long as they are installed in accordance with the manufacturer's specifications.